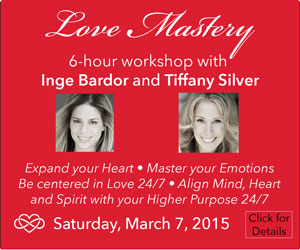 For tickets and more details, click here
---
Sign up for Tiffany's Newsletter for information on classes, seminars and events
Transformation Workshop for Women
 Learn How to Let Go of this Year to Embrace An Even Brighter New Year
Sunday December 14, 2014 2:00-6:00pm
 As the New Year is upon us it is time for us to unite our states of consciousness to wholeness, fulfillment, awareness, love and connection from the inside out!
Center Your Energy in Your Truth
I will share profound insights into working with your own energy centers and how to connect to your authentic internal states where truth resides.
Healing Insights and Blessings for You and Others
I will share Blessings that will profoundly change your state of consciousness and expand you into oneness.
Open Your Heart & Mind to New Possibilities & Potential
Your heart will open, your mind will quiet, you will feel the presence of what's possible and have strategies for taking action. You will focus with deliberate intent.
Gorgeous Malibu Ocean Location
We will be overlooking this gorgeous Pacific Ocean view in Malibu basking in bliss and absorbing the sunset rays of light as we unwind into a peaceful state of mind.
What you will come away with:
Practical tools to create abundance, self-love, and fulfilling relationships

Individualized hands-on Oneness Blessing* to open energy centers

Transform limiting beliefs that hold you back from achieving your life goals

Breath-work to release stress, get centered, and quiet the mind
Tiffany Silver is a leading transformational coach, lifestyle authority and internationally-known author of the book "Silver to Gold the Alchemy of the Feminine Heart", offering individual and group life-changing services.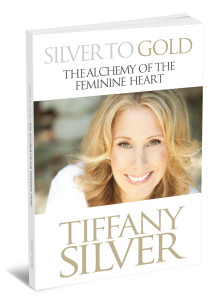 Certified Oneness Teacher Trainer for the Oneness Blessing,
 Energy Healer, Speaker and Blogger for Huffington Post.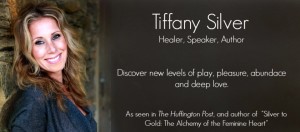 Please Join Tiffany for this day of awakening into the New Year New You as she takes you on a journey into Oneness! You will walk away feeling deep peace, connected, loved and empowered, with tools to carry out your life's purpose.
Sunday, December 14, 2014 (2:00-6:00 PM)
Please RSVP (310)804-0345 or Tiffanysilverlove@yahoo.com Cost: $99 Love Donation